Types of backgrounds
Original version of the game comes with default background image size of 800*600 pixels. Also, game gives you option to add your own backgrounds using piced tool (piced.exe).File is located after installation inside the Championship Manager 01/02 main folder. With this tool you can easily add your self-made backgrounds.
Before starting piced.exe tool you have to choose what pictures you would like to use in the game, resize them to 800*600 resolution, convert them to .bmp extension.For this task we reccomend ACDSee program or similar one.
With a development of a famous Tapani patch by it's creator Tapani, new option was added, to play a game with a new interface in a windowed mode but 1280*800 resolution instead default 800*600. For this interface piced tool was also developed (piced_1280.exe).Process of adding this backgrounds is the same as adding 800*600 backgrounds. More,Tapani patcher offers you even moe resolution for your windowed mode like 1366*768 or 1400*900.
How to add backgrounds-tutorial
Iceland Premier League Background pack (1280*800)
A title is a self explanatory. A fine background pack to install with newest Iceland League Patch. Data for pics.cfg file are included.
Players and managers 2015-2016 season Background pack (800*600)
Download,extract and copy all the files to your ''Pictures'' folder inside Championship Manager 01/02 main folder.
Pack includes more than 5000 pictures
Every playable club has a badge
Every national team has a badge and a flag
All the main stadiums in the world have at least one picture
More than a thousand players have a picture in their national jersey
All the most important managers have a picture
Every playable competition has a picture
Old Championship Manager Original Backgrounds (800*600)
This backgrounds were used in the original CM3, CM99/00 and CM00/01 games.
Sunday League Football Pack (800*600)
Background pack based on the most popular level of football.
Slivie's Big Club Background Pack (1366*768)
Great club backgrounds megapack!
Background megapack (1280*800)
The pack is consist of 1674 background pictures for 1280*800 interface.
UEFA Backgrounds (800*600)
A pack complied by kubano1984, which consists of backgrounds for the UEFA Nations.
Stadium Background Pack (800*600)
Massive pack with stadium backgrounds from all over the world.
England Backgrounds (800*600)
Background pack for English clubs.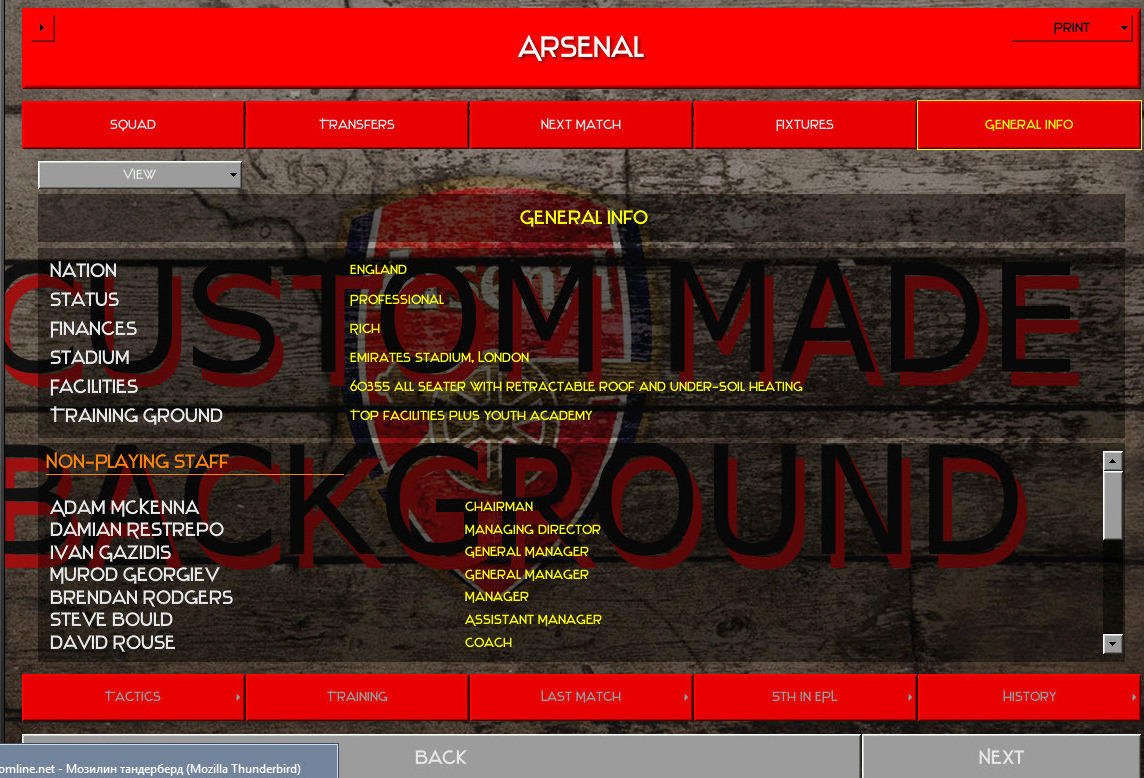 Background request
If you want custom backgrounds to be made just for you, please contact us with a detailed information.